AGENTS AND LICENSEE

Rodney Van Dam – director of ABP and Marius Mostert - owner of M2 Consulting Engineers at the signing of the TASS licensing agreement between the two companies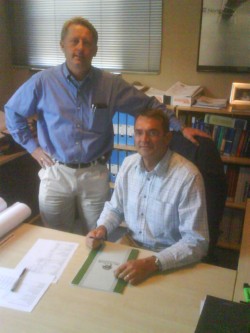 ABP are licensing the TASS slab system to consulting engineers and the following "Motivation" outlines the benefits to potential licensees
MOTIVATION TO BECOME A TASS LICENSEE
BACKGROUND
Concrete 'rib and block' and pre-stressed floor slab systems have become common place in the construction of multi storey buildings in Southern Africa.
Whilst they offer many advantages over insitu floor slab systems there is now a new generation floor slab system which is an advance on the traditional 'rib and block' –TASS Thermal Acoustic Slab System
TASS leads the way in design innovation and fitness for purpose.
The development of TASS started in 2002 when MRH Consulting Engineers saw that their earnings were being impinged by the concrete rib and block supply industry offering the market a design and supply service. The fees of consulting engineers were thus being eroded but overall responsibility for the structural integrity and safety of buildings remained.
MRH then researched systems being used elsewhere in the world with the intention of finding a solution that could be taken directly to market.
Key research criteria were:
- ease, simplicity and quickness of installation.
- ability to be installed considering the constraints and labour capability in the South African market.
- cost competitiveness with rival systems.
- structural integrity.
- unique selling features that would differentiate the system from its competitors.
After much experimentation two key material changes were decided upon:
- replacement of the concrete rib with a priority cold rolled, steel rib.
- replacement of the ash/concrete block with a permanent, fire retardant expanded polystyrene void former.
This approach was refined and working with ABP Multistyrene (Pty) Ltd, the largest producer of expanded polystyrene mouldings in South Africa, through several generations of product, a patented moulded expanded polystyrene block has been developed.
At the same time advances have been made with the lipped channel design.
TASS has been installed in a wide cross section of construction projects over the past two years, its competitiveness proven and has now reached a point of refinement where it can be taken to market more comprehensively.
TASS is marketed by ABP Building Products (PTY) Ltd who have decided that the most effective way to take the product to market is to license it to civil/structural engineering companies only.
This will ensure proper control of the product in design and use and open up a new revenue stream for the appointed licensees.
WHY BECOME A TASS LICENSEE?
Business diversification.
Civil engineers are restricted in their activities primarily to design and consulting services.
A TASS license enables diversification without any compromise to professional integrity.
This diversification is into a domain where the engineer has a captive market and is responsible for the suspended slab design anyway.
Once designed the sourcing of the materials to meet the design criteria and the revenue stream that results passes to a third party.
By being a TASS licensee the product supply responsibility and revenue remains with the consulting engineer.
A product trading opportunity is thus transferred to the consultant.
Recapture of lost design revenue.
With the advent of traditional pre-cast 'rib and block' slab suppliers offering a full service from design, to manufacture, to supply, engineers have had their fees for this element of design squeezed or eliminated.
They often however continue to carry the full engineering responsibility for the building.
Where owners/builders use concrete 'rib and block' suppliers to provide the slab engineering at extremely low rates and therefore eliminate the need for a separate engineer, this type of work can revert to the consulting engineer fraternity.
By reversing this trend to consultant engineer design and supply not only is the lost revenue stream regained but the component supply revenue is transferred to the consultant/licensee.
Additional revenue streams.
The supply of the TASS components, which are patented and unique, restricted to TASS licensees only and cannot be copied by 'me too' suppliers opens up an additional revenue source for the consultant.
The amount of revenue generated will be restricted only by the number of square metres of suspended floor slab designed and specified by the consultant.
It is also likely that periodically a licensee, because they are called on to supply a TASS slab, will be appointed as the structural engineer for the entire project.
Opportunity will also be created to supply / trade in structural steel outside of what is required for the floor slab if the contractor sees that this will assist in the management of the project and its competitiveness.
No capital investment and manufacturing risk.
The components of the TASS system are sourced from pre approved third party manufacturers who have the capacity and supply expertise to be the licensee's supplier.
Supplier support.
TASS licensees will deal with two suppliers only: one supplying the expanded polystyrene and ancillary components and the other the steel elements.
These suppliers will be responsible for manufacture, processing orders to specification and delivery to site.
Licensees will have direct contact with the system suppliers.
Design fee flexibility.
The licensee/consultant will have additional flexibility in determining design fees by manipulating the overall design fee including slab design with the margin that will be achieved from the component sales i.e. if an alternative slab system is price competitive against TASS, the consultant can reduce the slab cost to be competitive whilst still retaining the consultancy fee and making a reduced but acceptable margin on the TASS slab.
TASS licensor support.
ABP Building Products (ABP) PTY Ltd the TASS licensor will provide the following support package to facilitate the integration of the license arrangement:
- design protocols.
- estimating, material quantity calculation, pricing and quotation methodology, project management and ordering protocols and invoicing procedures.
- website and generic promotional support.
- general administrative procedures.
- trouble shooting and problem solving guidelines.
- supplier access through factory visits, links to responsible contact personnel and all contact details.
LICENSEE REVENUE GENERATION
ABP will provide pricing models which licensees will use for their pricing.
This modeling has been based on pricing practices adopted by the original TASS licensee, MRH Consulting Engineers.
Margin on TASS EPS blocks and steel components - cold rolled steel rib, rebar and mesh.
This 'trading' margin can vary between R50/m2 to R100/m2 dependant on the size, complexity and competitiveness of the job.
Potential licensees should review the square meterage of multi storey floor slab designed in the prior year and multiply this by R50/m2 to gain a conservative view of potential gross margin available.
Engineering and drafting fees.
This can vary from a low competitive rate for the slab where the overall situation is highly competitive to 'normal' where the licensee is the appointed structural engineer and the overall design fee includes all design elements.
Importantly the design fee, at whatever level, stays with the licensee. This could add between R5 –R35/m2 to the margin achieved from the TASS system sale.
The above earnings need to be offset against additional costs that will accrue from operating the license. These will include the upfront license fee, sales royalty and administrative costs.
A simple income statement based on a licensee specifying 20,000m2 of TASS slab p.a. is laid out below (using conservative margin and fee structure):
Year 1:
Income
TASS trading margin @ R50/m2 R 1,000,000
Additional engineering fees @ R10/m2 R 200,000
Total income R 1,200,000
Expenditure
License fee R 75,000
Annual royalty (4% of Margin) R 40,000
Administrative assistant R 60,000
Additional admin. costs R 10,000
Total expenditure R 185,000
Nett income: R 1,015,000
From this will need to be deducted the cost of labour and time to draw, design and service the project.
Year 2: Based on the same throughout the upfront license fee can be deducted with all other numbers remaining constant.
Excluded from the revenue stream is any additional fee revenue which could result in the licensee being appointed as the overall project structural engineer due to the capacity to supply TASS and minor revenue which will accrue from selling system auxiliaries such as EPS plaster and light boxes and also the potential for additional steel sales for items such as beams etc.
If the licensee wants to expand the earnings potential of TASS they can link to or create slab installation teams where they can participate in the installation revenue.
CONCLUSION
Based on a very low investment risk (upfront license fee) the potential return as a TASS licensee is significant. The financial model is based on the actual earnings of a small consulting engineering firm, MRH Consulting Engineers, but taking a more conservative view of margins and fee structures.
TASS LICENSEES

POLYBLOCK LICENSEE

MRH CONSULTING ENGINEERS
TASS licensee
Bedforview, Johannesburg
Contact:
Rodney van Dam 0114502139
or 0833803620

ICF CONSTRUCTION
General construction projects with ABPPolyblock.
Installers of the TASS multi story slab system.
Bedfordview, Johannesburg
Contact: John Kirkpatrick 0824124898

M2 CONSULTING ENGINEERS
TASS licensee
Auckland Park, Johannesburg
Contact:
Marius Mostert 0114821420
or 0823742156
QUATRO CREATIONS
General building contractor with operations in Gauteng, Tswane and Limpopo


Contact: Fanus Grove 082551603

CCS SLABS
TASS licensee and installer
Pretoria/Johannesburg
Contact:
Robbie Reid 0126623039
or 0832583330
Mpumulanga/Gauteng
LD OOSTHUIZEN KONSRUKIE BK
Tel: 0137501209
Fax. 0866337847
Email: Lammert@ldoosthuizen.co.za www.ldoosthuizen.co.za


QUICKDECK GAUTENG (Pty) Ltd
140 Cantonments Road,
Lyttelton Manor, 0157
P.O. Box 12142,Centurion, 0046
Rudolph Dippenaar
Fax: 012 664 7709,
Tel: 012 664 6490
Cell: 0828743318
e-mail: rudolph@infraburo.co.za

ARTHUR BLAKE
AFGO CONSULT
15 Avalanche Street Westdene 2092
Tel +27 11 726 6997
Fax +27 11 428 9417
Cell +27 83 501 2189
e-mail blakea@afgoconsult.co.za

WILLIE VENTER
Fax: 018 963 3775
Tel: 015 963 3773
Cell: 0828957627
e-mail: williev@infraburo.co.za

D&L POLYBLCOK BUILDERS
25 Hampshire Downs
Camelot
Hillcrest
0317651136
Contact: Derek Henderson 0767549225

DUVHULA CONSTRUCTION cc
Contacts:
Petrus Mulaudzi 0834199404
Emmanuel Munyai 0762298097
Email: info.duvhula@iburst.co.za or rudzani.mulaudzi@iburst.co.za

PROCOM cc
Contact:
Fanie Joubert
0824664661
0514361350
Email: procom@xsinet.co.za

JUST SLABS (Pty) Ltd
Tel: (011) 7946940
Email: craig@justslabs.co.za

Botswana Agent MBAMOSE
Insulated Building Systems
PO Box 40321
Gaberone
home 3912507
Fax 3974389
info@mbamose.bwobd.com