COBLIT
PRODUCT DESCRIPTION

COBLIT is a durable, preplastered, exterior, expanded polystyrene, decorative wall moulding that can be supplied in any shape or size in lengths up to 2,5m. COBLIT is supplied as a system with 2 pack adhesive and filler paste for joins and edgings.
BENEFITS
• Coblit is ideal for all decorative exterior wall mouldings, perimeter wall
cappings, window and door surrounds and wall corbels
• Coblit is supplied n lengths up to 2,5 metres
• Supply lead time is 2 weeks for standard profiles and 3 weeks
for specials.
• Coblit is profiled from fire retardant expanded polystyrene and plastered,
in factory, with a uniform 2-3mm thickness acrylic resin based plaster.
• The Coblit system includes the mouldings, quick set adhesive
and filler paste.
• Once fixed Coblit can be painted with any exterior paint.
• Lightweight
• Dimensionally accurate
• Quick to install
• Fully UV resistant
• Long lasting
• Any shape or profile can be supplied
• Smooth plaster finish
• Complete elimination of plaster cracks
• Short supply lead times
• No skilled labour required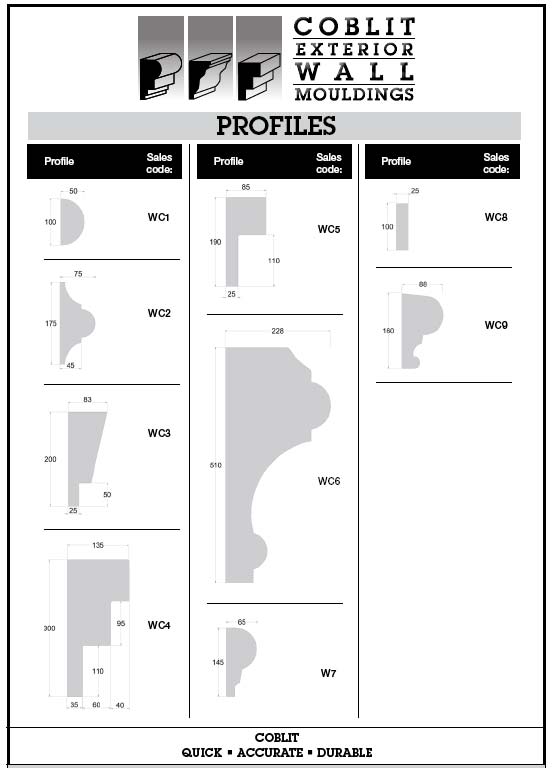 COBLIT
QUICK • ACCURATE • DURABLE